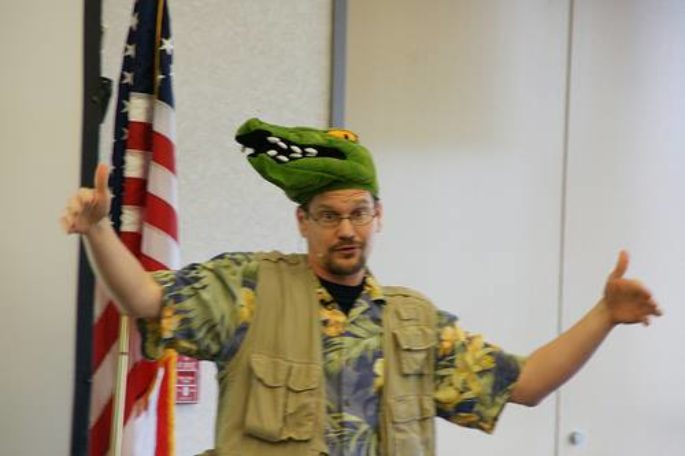 Adaptations and Ecosystems
Explore a variety of endangered species issues including habitat loss, over hunting, pollution, and more. Human contributions to the causes and solutions of endangered species issues are addressed with an emphasis on empowerment and optimism.
With a degree in zoology and an electrifying stage presence, Lucas Miller, the "Singing Zoologist", creates songs and sto-ries that somehow manage to be both outrageously  fun and scientifically accurate.
Grades:  2-4
Single Performance:  $500
Back-to-Back Performances:  $700
Audience Limit:  250
Life Cycles
Learn about the metamorphosis of tadpoles, the migrations of monarch butterflies, the growth of bluebonnets, and more in this dynamic science presentation. Packed with dazzling images, hilarious songs, and, yes, a rapping honeybee, your primary grade students will laugh and move while they learn a wealth of new science terms and witness the growth of living things.
Grades: K-2
Audience Limit: 250
Single Performance: $500
Back to Back Performance: $700
Science STAAR Intensive: Ocean Jeopardy
Covering photosynthesis, the carbon dioxide- oxygen cycle, solutions/mixtures and a wealth of other science TEKS, this program delights students, teachers and administrators alike.
Everyone will have so much fun laughing and moving to songs about wetlands, ocean food chains and symbiotic relationships that they won't even realize how much they're learning.
Grades:  3-6
Single Performance:  $500
Back-to-Back Performances:  $700
Audience Limit:  250