Creating Balance through Dance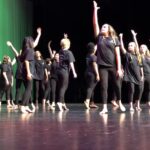 Young Audiences of Northeast Texas' dance program, now in it's sixteenth year,  is focused on the critical adolescent years and is designed to teach the art of dance and to promote creativity, critical thinking, cultural awareness, communication, and learning across all subjects. The program is currently active in three middle schools and one high school.
The program provides an opportunity for students to gain dance experience while also developing a positive self-image.  "Creating Balance through Dance" uses dance terminology, technique, and choreography as the foundation for the residency, overlaid with journaling and teamwork that explores the daily challenges students face. Different dance styles including Jazz, Ballet, Lyrical, Folk and Hip-Hop are covered throughout the program.
Creating Balance through Dance teaches students that physical activity, creativity, teamwork, and individuality are all things to be cultivated and celebrated within themselves. By building dance classes into their school-day routines, students can clearly see the connections between dance and academics, encouraging them to achieve success in both.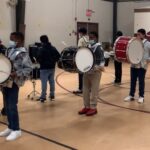 Our Drumline Program started in the Fall of 2020 at Hogg Middle School.
Drumming is a non-verbal, universal music making activity that builds social-emotional assets consistent with a positive youth development approach.  Drumming builds confidence and teamwork.  It boosts brain power and increases academic performance.  Drumming has a positive effect on anxiety, grief, fatigue, depression, and behavioral issues.   Our Percussionist, Corey McCowin does an exceptional job of explaining concepts, choosing appropriate material for a student's level, and encouraging his students.
While drumming children strengthen their ability to focus and work on impulse control and decision-making skills. Playing the drums can help students express themselves and get in touch with their emotional state.