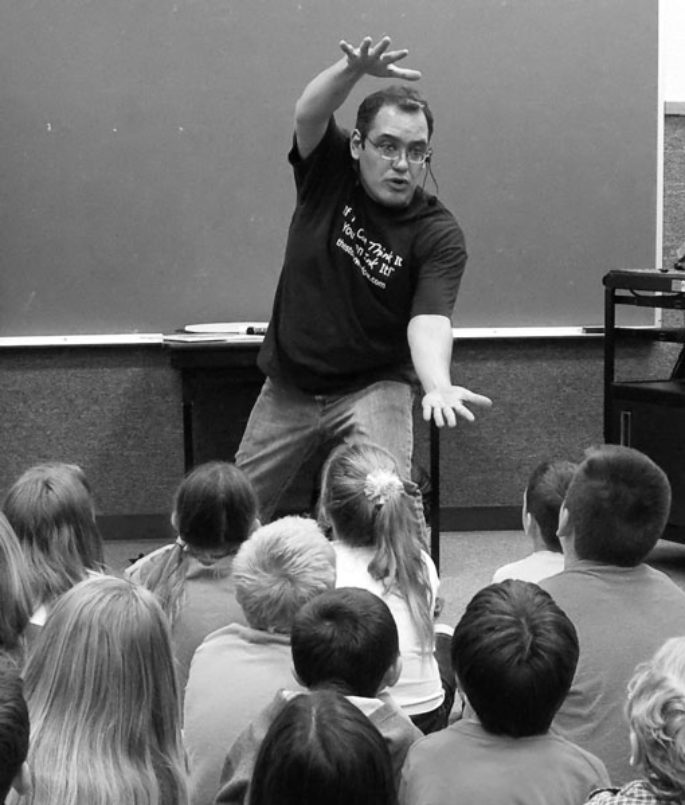 Teaching artist Chris Espinosa has the secret to motivating reluctant writers: Turn the classroom drama into theatre arts… the WRITE kind of drama! He will show participants that by focusing on a writing EXPERIENCE, not a writing METHOD, they can unleash the power of students' inner monologues (their writing voice). By doing so, their young writers will understand that writing an expository or personal narrative can be as easy as speaking their minds.
The participants will experience a five day residency in one day. In this action-packed day of collaboration, they won't spend much time in their seats. After a brief brainstorming session to generate ideas, attendees will break into small groups and use these ideas in improvised scenes which will form the foundation for a rough draft. They will spend the rest of the day writing, improvising, and transforming their writing into a monologue. The last hour is spent rehearsing
and performing the monologues. This one-day experience will demonstrate how use of theater arts, specifically improvisation and the monologue, fuels the desire to write and ultimately transforms the writing process into an exciting experience! A few days after integrating these ideas into the classroom, there will be a positive shift in the students' attitude about writing as they learn to be better writers and dynamic communicators, skills that any 21st century student can apply in any situation, in or out of the classroom. Participants will be able to integrate improvisation into their writing lessons motivate their students to actively participate in the, writing process, help their students find their writing voice by, allowing them to express themselves through performance.
Chris Espinosa
Teachers of Grades: 4
Workshop Length: 6 hours (5 hours of instruction, one hour for lunch)
Workshop Cost: $1000